Dan Remer joined Remer Realty and Appraisal full time in June of 2009.
Dan is currently licensed in Iowa as a Certified Real Property Appraiser and a Real Estate Broker.
Dan has been licensed in Real Estate Sales since 2004.
Dan is a proud alumnus of Northwestern College in Orange City, IA.
During his time at Northwestern, Dan competed in Football and Track. Following college,
Dan began working in Des Moines with Wolf Construction. After learning the basics of construction, Dan continued to expand his skills as a foreman and later in the position of Director of Operations
and Safety. The wide range of residential and commercial construction skills that he acquired
in Des Moines provide Dan with a strong knowledge base.
Dan is married, has three children and lives in Ida Grove.
In his spare time, Dan enjoys golfing, fishing, racquetball, and camping with his family.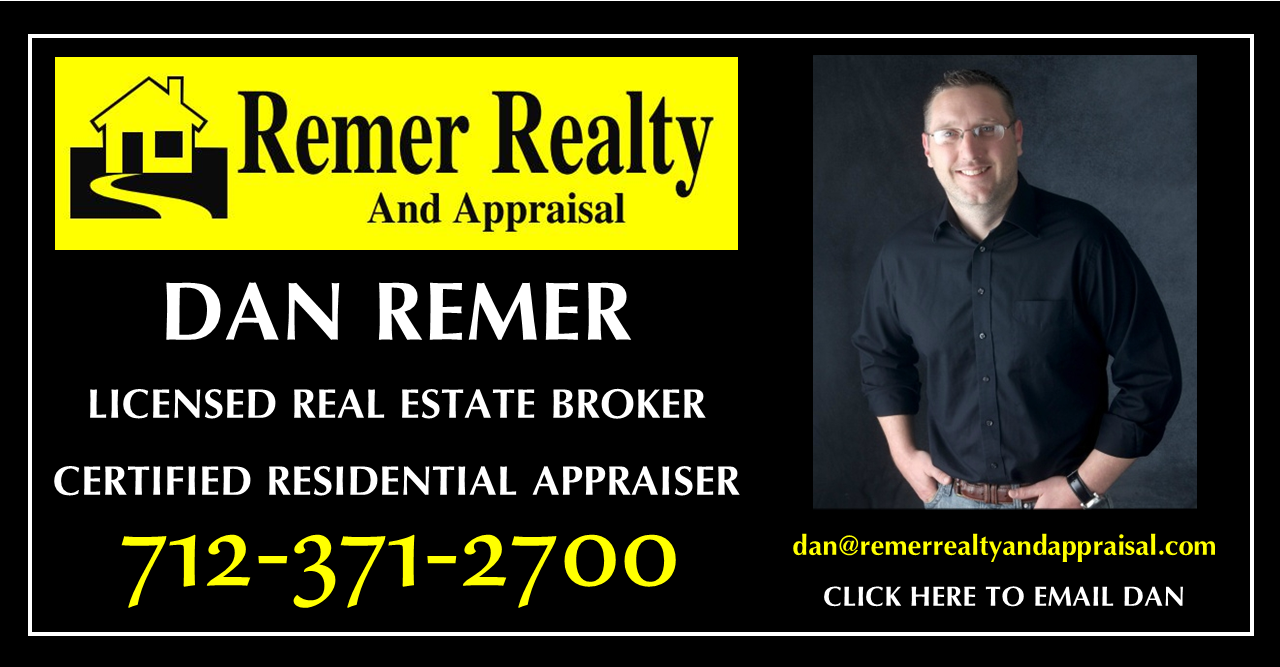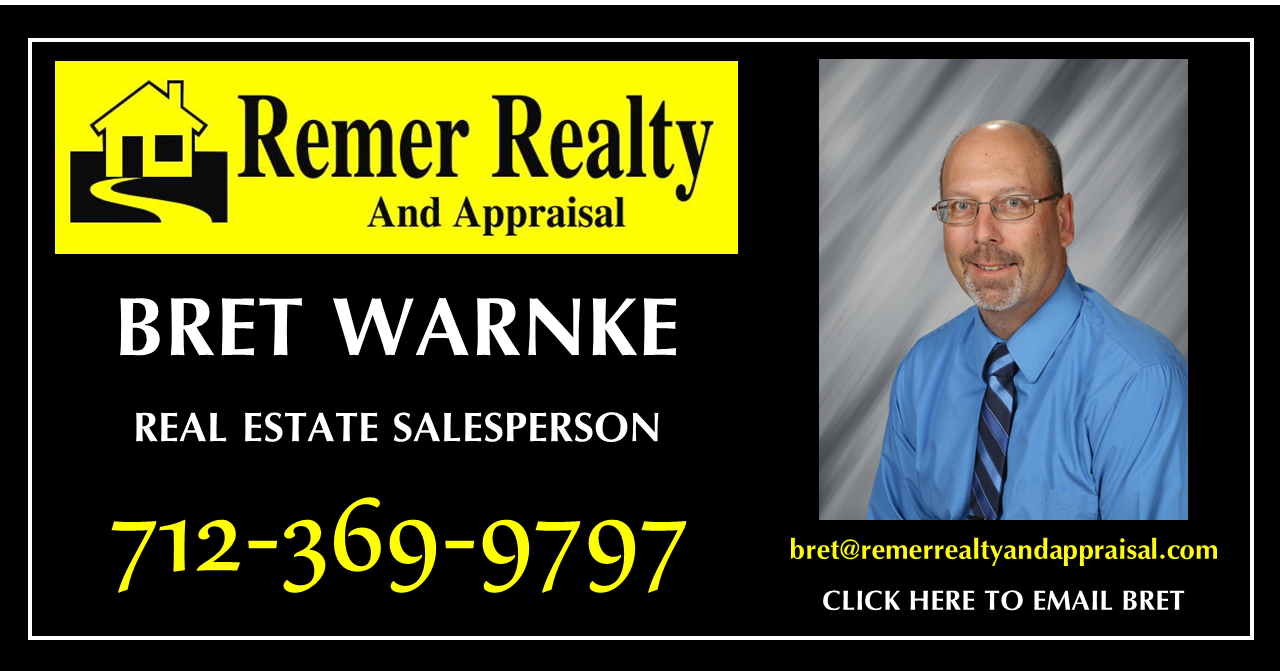 Bret Warnke joined Remer Realty and Appraisal in February 2021
as a licensed Real Estate Salesperson.
Bret spent 33 years in public education, retiring as a high school principal in 2020.
His last 20 years were spent working in the Ridge View school system serving the communities
of Early, Galva, Holstein, Nemaha, and Schaller. Bret has a BA in Education
from Buena Vista College and an MA in Education from Morningside College.
Bret and his wife have lived in Ida Grove for the last 30 years.
They have 4 grown children, three of them living in Holstein and Ida Grove area.
They also have two grandsons. They enjoy traveling, golf, and family time together.
Amy Godbersen joined Remer Realty and Appraisal part-time in August 2018 as Office Manager.
Amy was born and raised in Seattle, Washington.
She graduated from Western Washington University with a B.A. degree focused in Marketing.
After college Amy held a variety of roles in Marketing, Public Relations, and Product Management before moving with her family to Ida Grove in 2009.
Amy is married and has two boys. She has enjoyed volunteering in various roles within the Ida Grove community including the OABCIG Elementary Ida Grove PTP, the Horn Memorial Hospital
Foundation Board and the Board of Education at St. Paul Lutheran Church. In her spare time
Amy enjoys spending time with family and friends, traveling, cooking, reading, and skiing.
George Remer graduated from Le Mars Public High School in 1957.
He received a B.S. degree from Iowa State University in 1963
and a J.D. degree from Washburn Law School in 1967.
George was married to the love of his life Carol
and together they had 3 children and 9 grand children.
Together, they enjoyed many family, church and community activities. In years past, George had owned and trained horses. He also enjoyed target shooting and hunting.
Amanda Luscombe graduated from Buena Vista University with a B.A. Degree and has worked in the appraisal profession for almost nine years. She became a Certified Iowa Real Property Appraiser five years ago. Amanda is an active associate member of the Appraisal Institute
and currently serves as the State Associate Chair for the Iowa Chapter of the Appraisal Institute.
Amanda also served on the 2010 and 2011 Leadership and Advisory Council for the Appraisal Institute in Washington D.C. Amanda is also currently working on getting her SRA designation
from the Appraisal Institute. She currently works with Remer Realty and Appraisal
and also has her own appraisal company, Luscombe Appraisals. She has experience with ERC relocation, litigation, foreclosure, and forensic review appraisal work.
Amanda is from Holstein, Iowa. She is married and blessed with four beautiful children.
Amanda enjoys spending time with her family and friends, reading, and church activities.
She also enjoys analyzing market areas and continuing to learn about complex
and ever changing appraisal conditions today